Repair or Replace?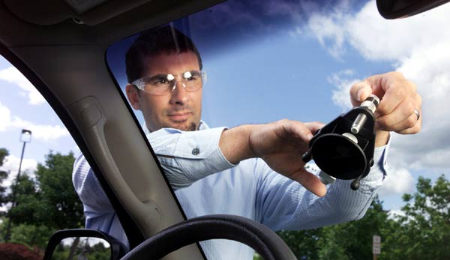 Repairing windshields is an economically, environmentally, and physically sound process that has the capability to virtually restore a windshield to its original condition. When properly performed, windshield repair can:
- Significantly reduce the visibility of the original damage.

- Improve the optical clarity within the damaged area.

- Reduce light scatter and haze within the damaged area.

- Restore the structural integrity and strength of the glass, thereby preventing further spread of the damage.

- Restore a smooth surface to the damaged area to avoid interference with proper operation of windshield wipers.

- Save you money.

- Save the insurance company money.

- Save our environment by decreasing waste, preserving valuable landfill space, and reducing pollution from new glass fabrication.

GLASS DAMAGED?
Call us!
We'll make sure you're safely back on the road in no time!*

Canyon County: 208-459-7757
Ada County: 208-887-1168
Malheur & Payette Counties: 541-889-9292

If you can't come to us, we'll be happy to come to you!

When we say "Give us a break," we mean it!

*For your convenience, The Windshield Doctor provides a 1-hour safe drive-away time on most installations.


The Windshield Doctor is a Family Owned & Operated auto glass repair company, established in 1978. We have over 30 years experience in the industry, and our customers are our #1 priority. We ensure our customers are 100% satisfied, and the quality of service we provide is the number one reason our customers come back to us when needed! We use only the finest materials in production, and the original manufacturer glass is available upon request. - Tim Preheim, Owner

Products / Services


All Auto Glass Repaired and Replaced (Foreign and Domestic)
Farm Equipment / Heavy Equipment
Door Regulators / Electrical
Classics / Custom Cut Glass
Motor Homes / RVs
Headlight Restoration
Free Estimates
All Insurance Accepted
Claim Processing
Service at Your Location
Lifetime Guarantee Against Leaks (air,water) and Stress Breaks








---

The Windshield Doctor has the best prices on replacement glass for many makes of automobiles. When your vehicle windows are broken or damaged, you want them fixed quickly, reliably and affordably. At The Windshield Doctor, we understand. We work hard to ensure that you receive top quality service.

For a FREE estimate or to schedule an appointment, please call The Windshield Doctor today!

Se habla español